Mayflies made their mark on Lake Vermilion — Some years it matters – some years it doesn't.  Consensus is that this year the mayfly HATCHES mattered.  Just when we thought the end was in sight, another round of mayflies greeted us again.  It seemed as if the week was going to be a good one when a late trip to the bait house to turn off what we thought was a forgotten light found a couple people set up cleaning their Saturday night catches.  While guests reported small windows of success for a wide variety of fish species, a consistent walleye bite was hard to find.
How is this for a multi-species long weekend for Brody?  A tiger musky, a nice smallie, a big walleye – and more.  Add some fresh fish for the skillet and that makes for a fun time.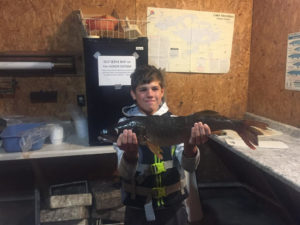 Hop on over to our Facebook page to see a familiar Lake Vermilion face.  https://www.facebook.com/Everett.Bay.Lodge.Lake.Vermilion
Cliff took some guests out for part of a day and he boated the big fish of the day and his clients raved about a great walleye dinner they enjoyed later that day.  Some of the other fish we heard about include a 37″ Northern for Mike O"Grady, a 26.25″ walleye for Brody Augspurger, a 23″ walleye for Channon McKibben, a 22″ walleye for Ozzy Krause, and an 18.5″ smallie for Mike O'Grady.   The water temp in our bay has settled in around 75 degrees.
It is hard to believe we are reaching the midpoint of July.  We have nothing available for the rest of this month.  There is a partial week stay during the week of August 10th and one for the week of August 17th, with the first full week opening starting on August 24th.  If you think one last trip north is on your agenda, now is the time to get your preferred date and cabin.
Stop wishing…come fishing!