Boats For Rent on Lake Vermilion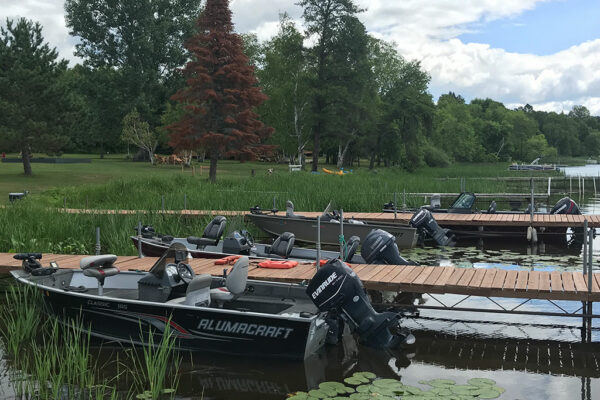 We offer guests staying with us a variety of fully rigged fishing boats, equipped a high end e-tec or 4 stroke motor, Humminbird GPS/lakemap, sonar, Minnkota trolling motor, and livewell, all ready to get you on that hot Lake Vermilion fishing spot in style. In addition, we have a 20 ft Palm Beach pontoon for cruising the lake (also fully equipped for fishing), and to round out the fleet, there are basic 16 foot /20 or 25 horsepower row boats available as well.
Whatever your plan of attack, you'll be able to take advantage of our ideal central location on the eastern portion of Lake Vermilion to venture as far as you wish, or stay close to the bay.
To maintain availability, we only rent to resort guests, and preference is given to full week boat rentals which include 2 free days in the weekly rate. Rentals of less than a week may be arranged based on availability. *Rates shown below are subject to tax, and fuel is charged as used.
Boat Rental Notes
A boat rental agreement, orientation, and inspection will be completed with each guest responsible for renting the boat.
Our rental boats are nicely rigged for fishing, cruising the lake and sightseeing. Water skiing / tubing are not permitted with any of our rental boats.
All boat rentals include battery chargers and extension cords for charging at our resort docks.
All rental boats take premium unleaded gas, which we sell onsite at our gas dock.
Wearable PFDs are required for each boat occupant in the state of Minnesota. We provide basic life jackets with the rental boat, however for your own comfort and safety, we suggest that you bring your own to wear while boating / fishing. (Boat seat cushions are not considered allowable PFDs.)
If you plan on bringing your own outboard for one of our 16 foot boats, they are rated for tiller motors up to 25 horse power,