Lake Vermilion Area Information
About Lake Vermilion, Minnesota
Our Lake Vermilion resort is on the shores of Lake Vermilion.  It is a beautiful 40,000 acre Canadian Shield lake with 1200 miles of shoreline and 365 islands located in northeastern Minnesota. The Ojibwe originally called the lake Onamuni, which means "Lake of the Sunset Glow."  Lake Vermilion is located between the towns of Tower on the east and Cook on the west, in the heart of Minnesota's Arrowhead Region and at the northern fringe of the Mesabi Iron Range.
Lake Vermilion contains black crappie, bluegill, brown bullhead, largemouth bass, muskellunge, northern pike, pumpkinseed, rock bass, smallmouth bass, tullibee (cisco), walleye, white sucker, and yellow perch. Lake Vermilion is known for its Minnesota walleye, smallmouth bass and muskie fishing.
Lake Vermilion attracts visitors from all parts of Minnesota and the Midwestern United States. Tourists are drawn by Lake Vermilion's reputation as a fishing destination, as well as its setting in the northern Minnesota wilderness. The lake is surrounded by parts of the Superior National Forest and the Boundary Waters Canoe Area Wilderness (BWCAW).
The Minnesota DNR rates Lake Vermilion as the fifth largest lake by surface area within Minnesota borders. The surface area of Lake Vermilion is 39,271 acres (158.9 km2) and has a maximum depth of 76 feet (23 m).
Lake Vermilion, Minnesota Family Attractions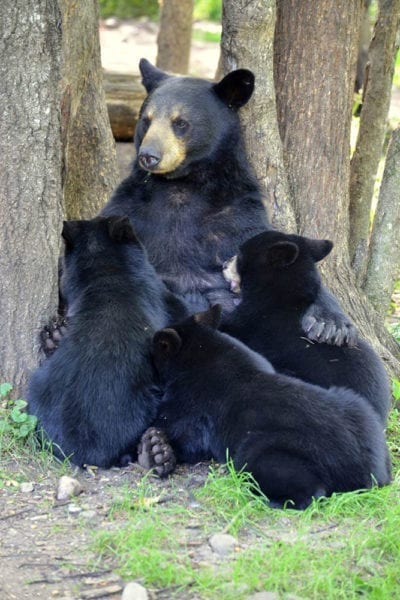 These are some of the best attractions in the area surrounding our Minnesota Resort:
TOWER-SOUDAN UNDERGROUND MINE: located in Soudan. Journey 2400 feet down to the 27th level, ride the rails back into the mine and listen to the stories of the mining days.
INTERNATIONAL WOLF CENTER: located in Ely, just 1/2 hour away.
PIER 77: Mini-golf, Creamery, and Gifts, each hold a little history of Lake Vermilion.
IRON WORLD USA: located about 45 minutes away, historical center dedicated to the mining history of northern Minnesota, train ride along one of the open mine pits.
VINCE SHUTE BEAR SANCTUARY: located just north of Orr, watch the bears as they come in to feed.
NORTH AMERICAN BEAR CENTER: located in Ely
FORTUNE BAY CASINO: open 24 hours a day, 7 days a week.
DOROTHY MOLTER MUSEUM: located in Ely, the "Root Beer lady of the BWCA".
THE U.S. HOCKEY HALL OF FAME: located in Eveleth, just 1/2 hour away.
BLUEBERRY PICKING
HIKING / BIKING
PICNICS: various designated forest service campsites on the Lake.
BWCA TRIPS
TOWNS OF ELY OR VIRGINIA: 1/2 hour away.
INTERNATIONAL FALLS: Canadian border – 2 hours away.
VERMILION LAKE ASSOCIATION Shore Lunch Sites: https://www.vermilionlakeassociation.org/shore-lunch-sites/
MANY OTHERS
Lake Vermilion Minnesota Golf Courses
A week's stay on Beautiful Lake Vermilion can find you enjoying a different course every day as there are nine from which to choose and ranging from 2 to 45 minutes driving time.
THE WILDERNESS AT FORTUNE BAY – (800) 555-1714; 18 holes
BABBITT – BABBITT GOLF COURSE (218) 827-2603; 9 holes
ELY – ELY GOLF COURSE (218) 365-5932; 9 holes
COOK – VERMILION FAIRWAYS GOLF COURSE (218) 666-2679; 9 holes
VIRGINIA – VIRGINIA MUNICIPAL GOLF COURSE (218) 741-4366; 18 holes
EVELETH – EVELETH MUNICIPAL COURSE (218) 744-5943; 9 holes
HIBBING – HIBBING MUNICIPAL GOLF COURSE (218) 263-4720; 9 holes
BIWABIK – GIANTS RIDGE GOLF COURSE (800) 688-7669; 18 holes
Quarry at Giant's Ridge.
Lake Vermilion, Minnesota Restaurants
Here is a list of a some restaurants close by. From prime rib dinner to hamburgers and ice cream cones, we can give you many more suggestions upon your arrival.
** accessable by boat
** VERMILION CLUB    (218) 753-6277
** FORTUNE BAY CASINO   (218) 753-6400
** TAVERN IN THE BAY (formerly Bayview)   (218) 753-8888
** BENCHWARMERS   (218) 753-5158
GOOD OL' DAYS   (218) 753-6097
SOUTH SWITCH   (218) 666-5411
POOR GARY'S PIZZA   (218) 753-5707