Lake Vermilion Minnesota Muskie Fishing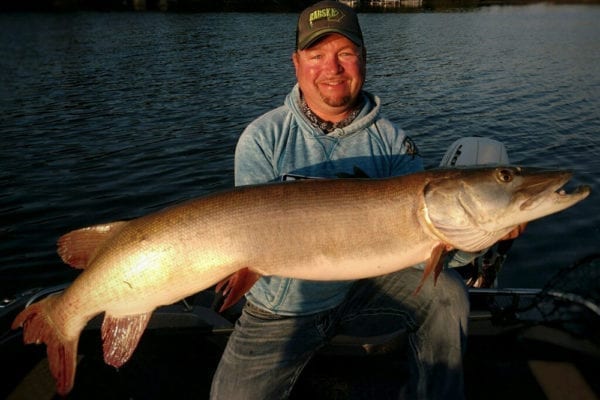 Lake Vermilion Minnesota Muskie fishing has gone through a typical growth curve. "Seasoned" Lake Vermilion anglers recall a time when they never saw another boat tossing "big baits." As stories of big muskies and the high likelihood of success spread, interest in Muskie Fishing on Minnesota's Lake Vermilion sky-rocketed, especially during the years surrounding the 2004 "Simply Fishing" record purse tournament. We were fortunate to host the Tournament Champs, Jason Long and Dan Wojtucik, as well as several other top 10 finishers. As the novelty of Lake Vermilion as the premier Minnesota Muskie lake has evolved over the years, musky fishing traffic has matured to a more comfortable level.
Our central location on the Eastern portion of Lake Vermilion makes a great home base for your muskie fishing adventure. You can go east or west as you leave Everett Bay, or go straight and begin your island/reef hopping pursuit of Lake Vermilion muskies.
The MN Department of Natural Resources Lake Vermilion Lake Survey found the average Lake Vermilion muskie trap net catch to be 45″ for the eastern portion of Lake Vermilion; 13% of the muskie were over 50″ long. Along the same lines, for Everett Bay Lodge fishing guests this past season, 17% of reported muskies crossed the 50″ mark. We have been happy to share in the excitement that many guests have experienced when they have caught their 1st Muskie or their Personal Record Muskie. Lake Vermilion boasts a 60″ musky caught in 2011. The August 6th catch of Corey Kitzman in 2019 was certified as the new Minnesota state record for catch and release musky. Read more about the record fish here: https://everettbaylodge.com/lake-vermilion-state-record-musky/
Along with "first " and "best" catches, some other impressive Everett Bay Lodge Lake Vermilion Muskie trips include:
– 19 muskies for three boats in one evening.
– 9 muskies for one boat in one day.
– and who wouldn't trade spots with Bob who enjoyed a fall muskie trip when he boated 7 muskies? Three of the muskies caught were over 50″ with the largest a 53.5″ big girl!
Zach Brennan visited with his dad, and while the week didn't start out fast and furious, his perseverance paid off as he stayed at it and ended up getting 7 fish, with 3 over 50″ and his largest a PR 53.5″ too. Not a bad way to celebrate high school graduation!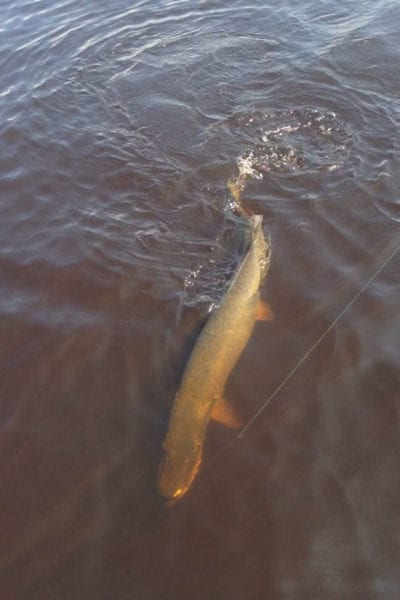 2015 found Lake Vermilion hosting the PMTT in August. On Day 1 of the tournament, the 55 muskies caught were just two fish short of the PMTT one day record. The PMTT big fish record was set that day, though, with a 57.5″ giant that was large enough to grab only 10th place at the end of the day. The Day 1 leaders boated 4 fish, all over 40″, with one over 50″. They caught another 48″ muskie on Day 2 to secure their spot at the top of the tournament leader board. As the PMTT approached its 20th anniversary, that 57.5″ fish remains its biggest fish registered in a PMTT tournament, attracting the group back in September of 2018 when Lake Vermilion – one of the best musky lakes in North America – hosted its Mega tournament with a $50,000 first prize for a full field. Congratulations to Jason Hamernick and John Hoyer who were the winners of the 3 day event. The largest fish caught this time was a 54.25″ on the first day.
Lake Vermilion Muskies are of the Leech Lake Strain, tending to be thicker and heavier than fish elsewhere, due to the good supply of bait fish – mainly sucker and whitefish.
Most muskies in Lake Vermilion relate to rocky structure, although a fair number have been taken from shallow, weedy bays too. While there is a 54″ minimum size limit, we hope that all muskie will be properly handled and released. A variety of baits produce muskies – Bucktails, Top Waters, Crank Baits.
A recent Al Lindner's Angling Edge segment featured Lake Vermilion guide Josh Borovsky fishing Lake Vermilion open water muskies in the early part of the season. It provides a nice overview of the finer details of targeting muskies in the open water, post spawn and can be found by following this link to our blog post. https://everettbaylodge.com/al-lindners-angling-edge-lake-vermilion-muskies/
While we always remind you to make sure you have your landing net, in this case we say "Make sure you have the RIGHT net," because not just any net will do!