Lake Vermilion Fishing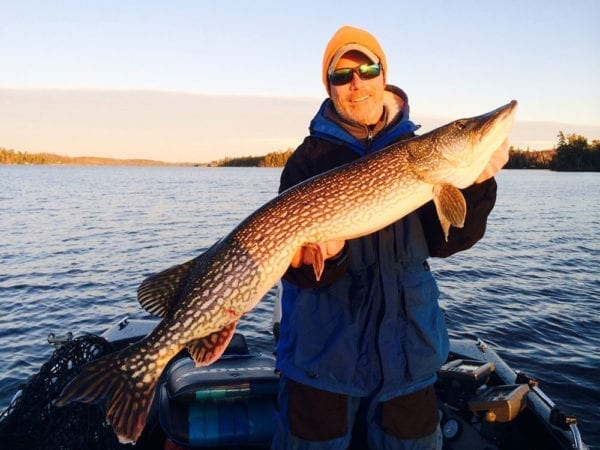 Minnesota Fishing at its best: Walleye, Muskie, Bass and Northern Pike
Lake Vermilion Minnesota fishing is hard to beat – an absolute joy to fish and explore with it's 1200 miles of shoreline, 365 islands, and 40,000 acres of stained fresh water.
When fishing Minnesota, it is hard to find a better multi-species lake than Lake Vermilion. Walleye, Bass, Muskie, Northern, Perch, Panfish – Lake Vermilion has them all! Although most large lakes in Minnesota may be described as a large bowl, Lake Vermilion is unique as its varied structure provides limitless fishing options along with welcome protection when the wind blows. Aerial pictures of Lake Vermilion are often mistaken for Canadian lakes; it is a Canadian Shield lake all within the confines of Northeast Minnesota.
Guests of Everett Bay Lodge enjoy a calm, quiet Minnesota Fishing Resort setting making boat docking a breeze, and just a few minutes up the shoreline they find an endless array of fishing options – underwater structure in Big Bay, the deepest part of Lake Vermilion; abundant mid-lake islands such as Potato, Taylor and Stonich; reefs, sunken islands, drop-offs, mudflats…and plenty of shoreline for those who favor casting. Our Lake Vermilion resort resort guests like the fact that they don't have to go very far to catch fish! Minnesota fishing opener is May 15, 2021, with most of our guests arriving Friday evening to get ready for Opener on Lake Vermilion.
Here at Everett Bay Lodge we take our fishing pretty seriously and have a fun time too. We are pleased to offer our expertise and Lake Vermilion fishing knowledge as we cater to families just beginning to enjoy fishing as well as expert amateurs and several pros. We can help you with the details while marking up a map and if you want a guide we can arrange that for you. Lake Vermilion guides work independently and charge about $300/4 hours, $350 for 6 hours, and $450 for a full day for 1-2 guests. All you need to bring is weather appropriate clothing, rain gear and your fishing equipment if you prefer to use your own. Otherwise the guides will provide the rods and tackle for you.
The Boundary Waters Canoe Area Wilderness borders the north shore of Lake Vermilion. Taking BWCA Entry Point #1, a short portage from Lake Vermilion will lead you into the BWCA and Trout Lake. (Permit required.) As we are north of the Laurentian Divide, all of our water flows north into the Vermilion River, Voyageurs National Park and eventually all the way to the Hudson Bay.
If you are interested in Lake Vermilion Muskie Fishing, Lake Vermilion Bass Fishing or Lake Vermilion Walleye Fishing, please check out our pages dedicated to those species.
Whatever Minnesota game fish species you are after, we will provide you with the time proven techniques to catch fish! For those who opt to clean your catch and enjoy a fresh fish meal or pack a limit for the trip home, our lakeside fish cleaning facility located in the Bait/Surgery house makes the fish cleaning process comfortable and convenient.
MINNESOTA FISHING LICENSES: The state of MN has eliminated the option for us to sell fishing licenses to our guests. You may purchase Minnesota fishing licenses prior to your arrival online at www.dnr.state.mn.us or at the Y-Store convenience store at at the corner of HWYs. 169 & 77.
Aquatic Invasive Species control and prevention is especially important as our goal is sustain this wonderful fishery for generations to come. Read more about Lake Vermilion AIS efforts here: https://everettbaylodge.com/lake-vermilion-aquatic-invasive-species-prevention-efforts-continue/.
Minnesota Fishing Openers and Possession Limits
| | | |
| --- | --- | --- |
| Species | Fishing Opener | Limit in Possession |
| Walleye and/or Sauger | 5/15 | Four (20″-26″ protected slot) with only one over 26″ |
| Northern Pike | 5/15 | Two (30″-40″ protected slot). Only 1 over 40″ |
| Muskellunge | 6/5 | One at least 54″ |
| Large and Smallmouth Bass | 5/15 | Six (combined) |
| Crappie | All Year | Ten |
| Bluegill & Sunfish Total | All Year | Twenty |
| Rock Bass | All Year | Thirty |
| Catfish | All Year | Five |
| Perch | All Year | 20 Daily /40 Possession |
| Rough and Whitefish | All Year | No Limit |
| Smelt | All Year | No Limit |
| Lake Trout | 5/17 | Two |